The temperatures are rising to unfathomable levels here in Baton Rouge, the kids are out of school and restless, and you're probably ready for a road trip vacation: yes, the summer is in full swing. If you're ready to hit the road and take some time off, remember that you're going to need to
schedule a little service
for your vehicle to make sure the trip goes smoothly. We know that can be expensive, but here at Price LeBlanc Toyota we're always looking to help ease that burden. In the blog post below, learn all about this month's service specials at Price LeBlanc Toyota.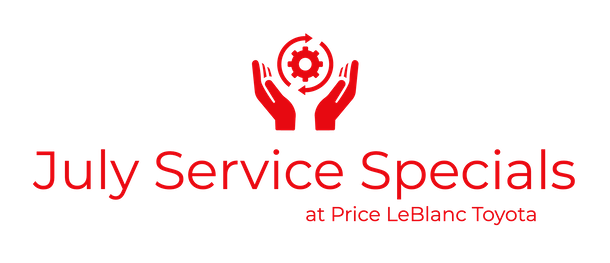 No matter what you need before you head out on vacation, there's no doubt that one of the coupons below can help save you a little cash, so be sure to check them out before you
schedule your service appointment
. This month's service and parts specials are as follows:
Battery or Installation Fee $25 Off*
Front or Rear Brake Service $50 Off**
1st Paid Maintenance Package $199.95***
ToyotaCare Plus $329.00****
Save Up to $100 on New Tires******
Tire Rotation $9.95******
4-Wheel Alignment $89.95*******
Oil & Filter Change Plus $49.95********
Variable Discount*********
No matter where you summer takes you, we hope you have a great time. If you plan to take advantage of our service specials, remember to do so before they expire on 7/31/19! You can learn more about our specials
here
or schedule service with us
here
. As always, you can contact us
here
with any questions you might have!
*Coupon not valid with any other offer. Must present coupon at time of purchase. Limit one coupon per person. Coupon does not apply to prior purchases. Other restrictions may apply. Void where prohibited. Expires 7/31/19
**Resurfacing additional. Extra charge on 4-wheel drives and, if required, on metallic linings, repacking front bearings, and replacing seals. Toyotas only. Discount taken off of regular posted price. Must present coupon when order is written. Plus tax and shop supplies. Not valid with any other offer. Valid only at Price LeBlanc Toyota. Expires 7/31/19
***Toyotas only. If discount applies, ti will be taken off the regular posted price. Must present coupon when order is written. Plus tax and shop supplies. Not valid with any other offer. prior sales excluded. Valid only at Price LeBlanc Toyota. Expires 7/31/19
****Toyota models only. Available on vehicles that (a) have between 17,500 and 31,000 miles on the odometer, (b) have not received a 30,000-mile factory-scheduled service, and (c) are less than 3 years from the date sold as new. ToyotaCare Plus is offered through your participating Toyota dealership. Expires 7/31/19
*****Restrictions apply. Toyota & Scion vehicles only. See participating dealer for details. Manufacturer incentives are for informational purposes only. They are subject to change without notice, and are not within Toyota's control. Expires 7/31/19
******Toyotas only. If discount applies, it will be taken off of the regular posted price. Plus tax and shop supplies Must present coupon at time of write-up. Not valid with any other offer or special. Prior sales excluded. See dealer for details.Valid only at Price LeBlanc Toyota. Expires 7/31/19
*******Toyotas only. If discount applies, it will be taken off of the regular posted price. Must present coupon when order is written. Plus tax and shop supplies. Not valid with any other offer. Prior sales excluded. Valid only at Price LeBlanc Toyota. Expires 7/31/19
********Toyotas only. Some models higher. Synthetic oil additional cost. Must present coupon when order is written. Plus tax and hazardous waste fee. Not valid with any other offer. Prior sales excluded. Valid only at Price LeBlanc Toyota. Expires 7/31/19